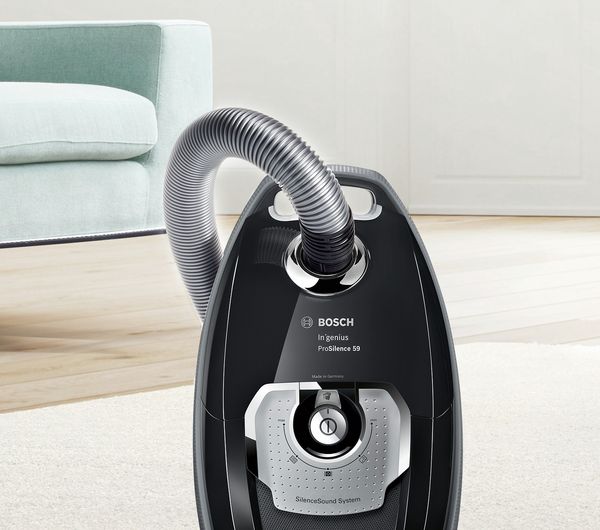 Cleaning your vacuum cleaner - part by part
Whether it's the vacuum cleaner filter, hose, tube or any other part, read our tips on cleaning your vacuum cleaner:
Cleaning the vacuum cleaner brushes or vacuum cleaner tube is very easy. Detach them, check that nothing has become jammed in them, remove the lint from the brush and wash it under warm running water without detergent and then let it air dry.
You can do something similar to clean the vacuum cleaner filter. If this is washable, it can be cleaned with just water and no detergent. Allow it to air dry for 24 hours.
Cleaning your vacuum cleaner hose is, in principle, identical. If you've think something is jammed in the vacuum cleaner hose, you can carefully push a broom handle or other long object inside and try to clear the jammed object.
To clean a bagless vacuum cleaner, remove the dust holder from the device, empty it and wash it under warm running water and allow it to dry fully. Under no circumstances should you put it back in the device while it is still wet. It must be totally dry. The same applies to cleaning the filter in bagless vacuum cleaners. Take it out of the vacuum cleaner, follow the instructions in the instruction manual and only clean it with water. It should also be allowed to air dry for at least 24 hours.
You should leave cleaning the vacuum cleaner motor to an engineer. Within the 2 year warranty period, this is normally free of charge subject to our terms and conditions. A quote can be supplied if your vacuum cleaner is outside of this warranty period.
If you've still got questions about cleaning vacuum cleaners or you would like to arrange for your appliance to be sent to our small appliance workshop for repair, call our customer service for more information. You can reach us around the clock, 7 days a week on our customer service number 01450 2655. We'll be happy to help.